101 Reasons to Vote NO in 2012
by Matt Dragovits
(Pittsburgh, PA)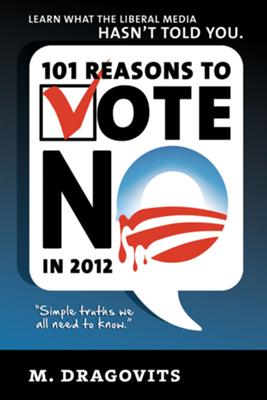 101 Reasons to Vote NO in 2012


- Simple truths we all need to know.
Matt Dragovits (Author)
I'd like to share with you my brand new book titled "101 Reasons to Vote NO in 2012." This book, distributed exclusively through Amazon.com, lists the 101 most current reasons to vote against Obama in the upcoming elections.
The book provides the conservative reader with facts and statistics to support your argument against the empty rhetoric of the left.
It is designed to be "the handbook" for conservative voters who want to change the minds and hearts of friends and family who gave Obama a chance 2008.
Why Do Some Still Support the Left?
Are you tired and frustrated that millions of Americans voted Obama into office in 2008?
Do you want to make a difference in 2012?
And if you are tired of arguing with friends, family members, the neighbor, and a stubborn co-worker who still support Obama despite the fact that his administration is systematically destroying our economy and our nation,
Then take a stand! Make a difference!
Thanks,
Matt Dragovits
Hardcopy:
Kindle: