America's Galactic Foreign Legion
by Walter Knight
(Grays Harbor, Washington)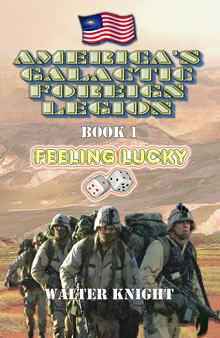 Americas Galactic Foreign Legion
"America's Galactic Foreign Legion" is a 19 book science fiction series depicting America taking humanity across the galaxy to fight alien empires. Humanity travels on American starships because no one else could do it.


When humans and aliens are forced share a distant planet in an uneasy truce, America brings in it heavy artillery: American Culture. Resistance is futile as aliens succumb to American TV, casino gambling, fast food, Walmart, football, Nike sportsware, the Teamsters Union, democracy, freedom, booze, drugs, Starbucks, and sex (yuk).
The science fiction genre has been abandoned to liberals and their tales of apocalyptic America, U.N. type government, failed ecosystems, anti-military rhetoric, and evil corporations. AGFL is taking back science fiction and our culture, one book at a time. Sales are a modest 35,000+.
Sample chapters and cover art can be viewed on my website at www.waltknight.yolasite.com. AGFL can be bought in paperback and Kindle formats at www.Amazon.com.