Executive Deceit
by David Carl Mielke
(Mount Dora, Florida)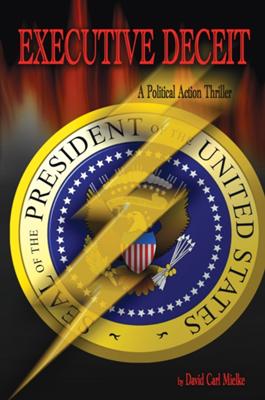 Washington DC's Worst Nightmare!
Executive Deceit


David Carl Mielke
Paperback: 252 pages
Publisher: DC Press (June 1, 2011)
Kindle Edition
Format: Kindle Edition
File Size: 531 KB
Publisher: D C PRESS; 1 edition (July 11, 2011)
THE PRESIDENT OF THE UNITED STATES IS A FRAUD !
"A tongue-in-cheek" revision of recent history."
"A poignant blend of fiction and reality."
Railing against the excesses of Big Government, LENA MILLS has used her rising popularity and mind-reading ability to chase crooked congressmen from office.
Now she has proof, including a witness that the President of the United States was born in Fiji.
Ethereal Voices command Lena to enforce the "natural born" clause of the Constitution. A powerful enemy is determined to stop her – by any means necessary.
In this sequel to A NATION BEST SERVED HOT, ride a roller coaster of political intrigue and triumph of the human spirit over seemingly impossible odds – as Lena and her team join with U.S. Marshal CAL CARPENTER and retired Supreme Court Justice SUSAN LEE BRIGHTMAN in a quest to depose MARIS CASTLE ALAM, the President of the United States.
Along the way, Lena thwarts assassination attempts, disrupts two Senate confirmation hearings, finds the love of her life – and brings the nation to the brink of polarized anarchy.
Will Lena Mills survive her mystical mandate?
Will the United States of America survive Lena Mills?