Higher than an Eagle: A Wings of Mercy Novel
by Dennis Kitainik
(San Jose, CA, USA)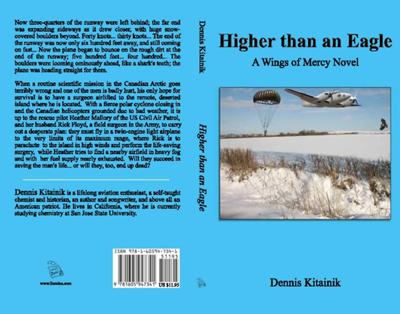 An inspiring tale of courage and patriotism, based on a true story (but with significant changes).


The story begins with two scientists conducting a routine weather research mission on an island in Hudson Bay, the goal of which is to study an alternative hypothesis for the causes of climate change. While taking water samples, one of the scientists is attacked and badly mauled by a polar bear, sustaining life-threatening injuries. The other scientist shoots the bear and gives the wounded man first aid, but sees that he cannot save him without professional surgery. He calls for medical assistance, but learns that the Canadian rescue helicopters are grounded because of bad weather conditions, flying in which would violate the pilots' union work rules. Now his only hope is the US Civil Air Patrol, which is not bound by the same rules as the Canadians.
At the same time, Rick Floyd, a combat surgeon in the 101st Airborne Division, has just returned from his tour of duty in Afghanistan to see his wife Heather Mallory, who is a pilot in the Civil Air Patrol. Halfway through their first evening together, however, they are interrupted by a call from the Civil Air Patrol telling Heather to report to the airfield for the rescue mission to save the wounded scientist. Rick also goes along for the mission, having convinced the squadron commander to include him in the rescue team. The mission is a dangerous and desperate one: the island is too far away for helicopters to reach it from the US mainland without making several refueling stops (which prevents them from reaching the island until too late), but an airplane cannot land on the island because of its small size, nor on the ice because of its broken and shifting condition. So the only way for the surgeon to reach the island is by parachuting from the plane. Along the way, the rescue team has to battle high winds, white-out conditions, dangerous icing, dense fog, and other dangers. Nevertheless, they accept the mission, confident that they will succeed.
Do they actually accomplish the mission? Or are they forced to turn back and leave the wounded scientist to die? Or do they crash somewhere along the way? Well, I won't tell you how the story ends -- you'll have to read the book yourself. :-)