Obama phone bank at illegal restaurant?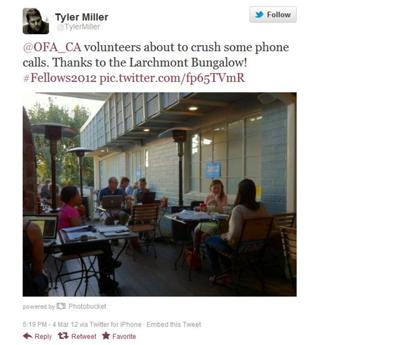 Phone back in CA ran by illegals
Obama volunteers in Southern California made 1,400 phone calls Sunday evening at "donated space" provided by an illegal restaurant in Los Angeles.


The person in charge of the phone bank didn't seem to care when informed that the city has filed three criminal charges against the restaurant. The arraignment was last week; the pre-trial has been scheduled for April 27th.
Larchmont Bungalow is the only restaurant in the area operating illegally -- their case is egregious (they blatantly stated to the neighborhood council they're a furniture store despite everyone knowing it is operating as a sit-down restaurant) and they just refuse to shut down.
The business has chosen to remain open because the profit it gets from customers is higher than whatever the fines there will be for operating without a restaurant permit. Having a three-hour phone campaign by the official "Obama for America - California" gives it legitimacy in the eyes of those who find it hard to believe that such a restaurant is operating without a permit.
http://www.facebook.com/ofa.ca
https://twitter.com/#!/TylerMiller/status/176523135233966080
The young woman who seemed to have arranged the phone bank at Larchmont Bungalow and was very unapologetic about it only identified herself as Caitlyn/Kaitlyn.
Larchmont Bungalow is located in Hancock Park, a wealthy enclave in Los Angeles known as a Democratic stronghold.