Proof of Life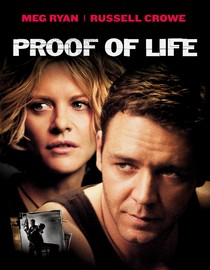 Proof Of Life 2000
Proof of Life 2000


R
135 minutes
Cast:
Meg Ryan, Russell Crowe, David Morse, David Caruso, Pamela Reed, Alun Armstrong, Michael Kitchen, Vanessa Robbiano
Director:
Taylor Hackford
Special Forces, Yay!
First off, I got to say that movies that involve special forces operations and that kind of action are my favorite.
This movie does an OK job at that but I would have a liked just a little more of that.
How Does a Worried Wife Fall in Love With Someone Else When Her Husband Has Been Kidnapped?
I mean, who wrote the storyline? And how is this OK?
I know it's what we've come to expect from Hollywood but why do people like to see that kind of thing?
Wait, didn't she that in real life too?
Only in real life Meg Ryan took it a step further, she really did leave Dennis Quaid (her husband) for Russell Crowe.
Film Quality
Even the movie quality and some of the acting was beneath the standards of Hollywood.
Real poor quality movie.
Who Should Watch Proof of Life
I would seriously reconsider watching it if I were a young adult and anyone younger. You are not missing out on anything.
But if you like war-like special forces type of films, you may find it interesting.
What's Conservative about the film?
The film clearly portrays the level of corruption in South American countries and where we could end up if America does not put an end to immorality and corruption.
It really makes you appreciate the freedoms and security we enjoy here in the United States.