Star Trek
by Reid Ralston
(Indiana)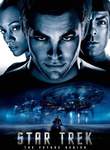 Star Trek (2009)
Star Trek Review (2009)


Some positive family values show up in this movie through Spock's bravery in saving his family and other Vulcans from a catastrophic disaster.
Kirk's father shows great loyalty when he dies to save most of the ship's crew, including his wife and soon to be born son.
Having said that though there is one major negative element that may offend some when Spock comes to the conclusion that he should put aside logic and do what feels right. Christians especially should head the warning of Jeremiah 17:9.
One other point of concern is Captain Kirk, it is easy for young children to like this character who is not always a perfect role mode. Overall though Star Trek is an enjoyable summer movie as long as you take time to think about the issues presented here.
***Please Rate This Movie***
1 Star if you really hated it,
5 Stars if you really loved it.
(you get my drift)
Ohhh!!! and bookmark this page on your
Twitter, Facebook, Myspace,
etc...