Taken
by Doc
(Kentucky)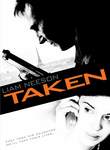 Taken 2008
Taken is such a refreshing change from the usual Hollywood fare of bashing fathers and Americans most of us are used to.


In Taken the good guy is an American former CIA (or similar) father, and all the bad guys are either French, Albanian, or Muslim. A father who is a former CIA agent pursues the French and Albanian kidnappers who took his daughter for the purpose of selling her into forced prostitution. The movie is engrossing and action-packed. There are some disturbing images of torture and young women in compromised positions, so it is not suitable for the young. Other than that, enjoy!
Cast:
Liam Neeson, Maggie Grace, Famke Janssen, Xander Berkeley, Katie Cassidy, Olivier Rabourdin, Leland Orser, Jon Gries, David Warshofsky, Holly Valance
Genres:
Action & Adventure
Crime Action
Action Thrillers
Please rate this movie
1 Star if you really
hated it,
5 Stars if you really
loved it.
(you get my drift)