The American Challenge
by Robert C. Etheredge
(Orinda, CA)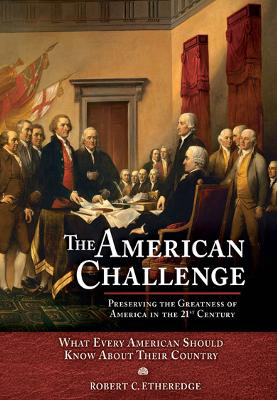 Explore the common heritage of an uncommon nation
"The American Challenge"


MiraVista Press challenges every American to pass the U.S. Citizenship Test with the release of their new book, "The American Challenge." America will not remain a great nation unless it has informed citizens who understand their country's history and form of government.
Alarmed by the dismal state of the public's knowledge of their country's founding principles, history, and government, Etheredge put together a resource that covers what every American should know about their country.
It explores the common heritage of an uncommon nation--the values, beliefs, history, and traditions that bind us all together.
Several recent studies have highlighted the lack of civic literacy in this country. Newsweek gave 1,000 Americans the U.S. Citizenship Test and 38 percent failed, almost half not being able to define the Bill of Rights. An Intercollegiate Studies Institute (ISI) test given to Americans in 2008 produced similar failure rates with half of those tested being unable to name all three branches of government.
Failures were almost evenly split among Republicans and Democrats, conservatives and liberals. This is a wake-up call for all Americans. As the ISI study stated, "The Founding Fathers understood that our constitutional system and the liberty it protects could endure only if Americans retained an understanding of our founding principles."
"The American Challenge" is an illustrated review of American history, civics, and culture.
It is a unique collection of everything that makes America great--famous speeches, poems, and songs; founding documents; information on Presidents and heroes; an illustrated history timeline; maps depicting the growth of states; basic government civics information; Americana; basic economic concepts; care of the American flag; flags of all states; a table of military ranks; and details of all Presidential elections. It contains over 600 illustrations, maps, and pictures.
Can you pass the U.S. citizenship test? Read this book and you can...
"The American Challenge" is a valuable resource for all citizens, and all who want to become citizens, and is a helpful addition to any household. The U.S. Citizenship Test is included in the back of the book with page references to all the answers.