Unborn in the USA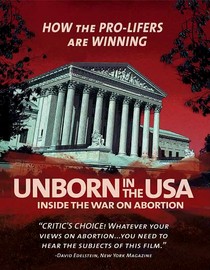 Unborn in the USA
Unborn in the USA: Inside the War on Abortion


2007
NR 104 minutes
Director:
Stephen Fell, Will Thompson
I am really surprised that this abortion documentary is not well known. I suppose it is because it is produced in a very boring way.
But the information presented was very informative and unbiased one way or the other.
I found myself wandering off throughout the film, again, because it is poorly produced. Conservatives, however, are sure to be satisfied with this documentary.
Liberals on the other side will find more ammunition in the film, not by the content but by the quality itself.
The Abortion Debate
Is abortion the most heated debate in American politics, I hardly think so. I think people have other, more pressing, matters in mind but it'll generate the most heated debates when the subject comes up.
Graphic Images of aborted babies
Unborn in the USA focuses on the graphic aspect of the debate and follows pro-life groups around such as Justice for All at a college campus in Colorado.
It certainly is interesting to watch people's (including my own's) reaction to such images.
I firmly believe that the main reason why "pro-choice" Americans find it so offensive when gruesome images are displayed is the same reason why all of us want to hide our shames.
The blood and the fact that we are looking at another human being butchered "just puts it over the top".
But "we" all get affected by them.
Not Really Family Friendly
This film should be watched by parents before their children watch it.
There's a part where there's just a lot of language.
Aside from this, it'll help your foundation of why conservatives believe that Abortion is wrong!!