Why Am I Conservative? 24 Topics for Kids or Anyone
by Melanie Angell Elliott
(Arkansas, USA)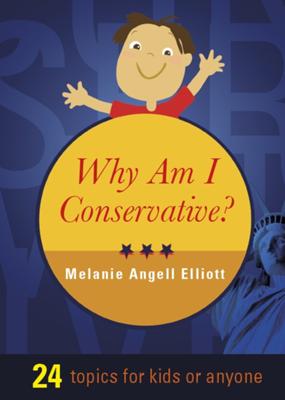 Conservative basics, written with families in mind!
What's happening at your dinner table?


For some families the dinner table has become another place for television and text messaging. Parents, are you surrendering valuable opportunities to teach your children about the values, traditions, and attitudes of American conservatism?
If you are looking for a way to start these important conversations with your children, 'Why Am I Conservative?' is the perfect first course. Fill your plate with a fine recipe of patriotism, freedom, responsibility, honor, and faith. Chapter by chapter, you will be served basic conservative value statements, expanded explanations, historical quotes, discussion questions, and more! If you want more than just another TV dinner, then chew on 'Why Am I Conservative?' to satisfy your appetite.
'Why Am I Conservative? 24 Topics for Kids or Anyone' is divided into chapters. The chapters include: a simple conservative value statement; an expanded explanation; quotes from Founders, American leaders, other experts, and the Bible; questions for discussion. Some chapters also include suggestions for further exploration of the topic.
Recommended for ages 9-adult.